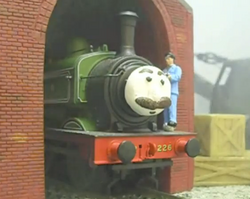 Alf
Number: 1247 (formerly 68846, 8846 and 4247)
Class: Great Northern Class J13 / LNER Class J52 Edit
Designer: Henry Ivatt
Builder: Sharp Stewart & Co.
Built: 1901
Configuration: 0-6-0ST
Alf (full name Alfred) is a J52 saddle tank engine who is the first privately preserved steam engine.
Alf was built in 1901 at Sharp Stewart & Co. He was retired from regular service in 1959 and was bought by Captain Bill Smith. According to Wensley, he now runs brakevan railtours all over the country, and he is given everything that a steam engine needs.
Alf is based on the real No. 1247, a GNR J13/LNER J52 0-6-0ST. It is currently in the National Collection in York as of 1980.
Alf is currently painted in Great Northern apple green.
Appearances
Edit
Alf was though of and made by Chris Eden-Green for The British Railway Series Character Competition. His entry was the winner of the competition.
Alf's name is Henry Ivatt's middle name.
Ad blocker interference detected!
Wikia is a free-to-use site that makes money from advertising. We have a modified experience for viewers using ad blockers

Wikia is not accessible if you've made further modifications. Remove the custom ad blocker rule(s) and the page will load as expected.