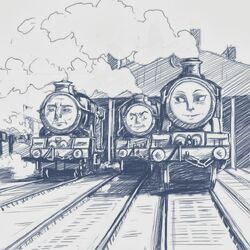 Great Western Glory
Author: Simon A.C. Martin
Illustrator: Dean Walker
Publication Date: Coming Soon
"Great Western Glory" is the upcoming second book in The British Railway Stories. It is due to be released in 2014/15.
If there was one Big Four company that preferred 4-6-0 Ten Wheelers to 4-6-2 Pacific, it was the GWR of the UK. The book shall follow the exploits of 4000 Star Class Princess Alexandra, 4073 Castle Class Spitfire (formerly Clifford Castle) and 6000 King Class King George VI, three GWR 4-6-0 locomotives.
Characters
Edit
Hawk may also appear since he's also from the GWR.
Ad blocker interference detected!
Wikia is a free-to-use site that makes money from advertising. We have a modified experience for viewers using ad blockers

Wikia is not accessible if you've made further modifications. Remove the custom ad blocker rule(s) and the page will load as expected.