Hugh was an N2 that lived in Copley Hill for a short time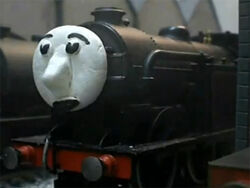 Hugh
Scrapped:1987
Bulit :1921
Designer:Herbert Nigel Gresley
Class :GNR N2
Configuration:0-6-2 Webb/Branchliner
Hugh is a tank engine who is based at Copley Hill.
Hugh was based at Copley Hill depot by 1953, as he was present when Stephen warned the engines to be quiet about Nigel's problem. In 1959, he was present when Stephen was telling the story about Scott, where he called at Herbert.
Hugh is based on a GNR/LNER Class N2 0-6-2 Webb.
Hugh is currently painted in BR lined mixed traffic black.
Appearances
Edit
Ad blocker interference detected!
Wikia is a free-to-use site that makes money from advertising. We have a modified experience for viewers using ad blockers

Wikia is not accessible if you've made further modifications. Remove the custom ad blocker rule(s) and the page will load as expected.