Leeds Central is in central Leeds and is the home to out of use lines cut-up engines and diesels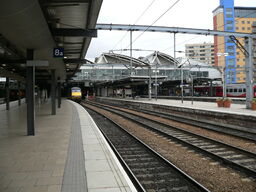 Not much is known about Leeds Central's History, It only appeared in episodes 6,15 and 15X
Locomotives
Edit
These locomotives live at Leeds Central:
Apperances
Edit
Goodbye, Stephen The Green Engine! (opening sequence only)
Day of the Deltic (mentioned)
Ad blocker interference detected!
Wikia is a free-to-use site that makes money from advertising. We have a modified experience for viewers using ad blockers

Wikia is not accessible if you've made further modifications. Remove the custom ad blocker rule(s) and the page will load as expected.