Tamlin is a Class 26 that is stored in Leeds Central.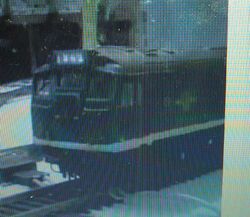 Tamlin
Bulit:1956
Class:BR Class 26
Configuration:Co-Co
Dispotion:Preserved
Tamlin comes to take Deltic away after he fails. She is later seen at Leeds Central Depot.
Not much is known about her persona, but she seems friendly as she honks to Gronk when she takes Deltic to the works.
Tamlin is based on a British Rail Class 26 Co-Co.
Tamlin is painted BR two-tone Green.
Appearances
Edit
Ad blocker interference detected!
Wikia is a free-to-use site that makes money from advertising. We have a modified experience for viewers using ad blockers

Wikia is not accessible if you've made further modifications. Remove the custom ad blocker rule(s) and the page will load as expected.