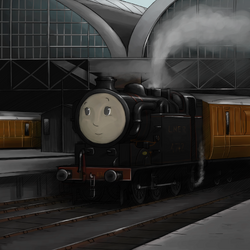 Violet
Number: 4742 (formerly 1742, later 9521 and 69521)
Class: GNR Class N2
Designer: Sir Nigel Gresley
Builder: North British Locomotive Co.
Built: 1921
Configuration: 0-6-2T
Violet is a Gresley N2 who worked at King's Cross in 1948 and she was also The Unnamed N2's sister.
Violet was intended to be supportive, loving, loyal and wise.
Violet is based on a GNR Class N2 0-6-2T. Bulit in the GNR Railway just like Alf the J52
Violet is painted in BR mixed traffic black with extra white and red lining, in the LNER days, she was painted in mixed traffic black with red lining.
Appearances
Edit
Violet is named after Sir Nigel Gresley's daughter, Violet Gresley.
According to Simon Martin, Violet was originally included in the original drafts of scripts for the episodes in the series. He recently confirmed on his blog that she was cut due to his poor voice acting.
Ad blocker interference detected!
Wikia is a free-to-use site that makes money from advertising. We have a modified experience for viewers using ad blockers

Wikia is not accessible if you've made further modifications. Remove the custom ad blocker rule(s) and the page will load as expected.